Welcome to Möllevångstorget
Choose two dishes for the price.
Rice, salad, half a naan bread, pickles and raita are included.
1. Chicken Tikka Masala (Onion, tomato, ginger)
2. Murgh Dilbhaar (Cream, Honey, Cardamom) *(Lactose) 
3. Gosht Darbari ( Cinnamon, cardamom, black peppers, nutmeg cumin, yoghurt, fried onion, dowel stretch ( (Lactose)
4. Muglai Tofu (Cashew nuts, coconut milk) (Nuts)
5. Lassoni Daal ( Brown lentils with garlic) (Vegan)
6. Shahi Navratan Veg (seasonal vegetables stew with coconuts milk, butter, cream) (Lactose)
Extra rice 15 kr
Extra Curry 29 kr
Butter naan/Garlicnaan 30/35 
Mango Lassi 40 kr
Soda 29 kr
Raita 15 kr
Pickles 10 kr
The old guard for the bona fide Indian cuisine in the heart of the city; pumping spices in Malmö, thus providing distinction to the foodies!!
The restaurant started 2016 in Möllevångstorget with a small group of
staff. After all the hard works done over years, we are now also in
Västrahamnen, with the extension "Ghee By the Sea" to the name, for the
glorious seafront it has, and we are a bigger family now of proud members.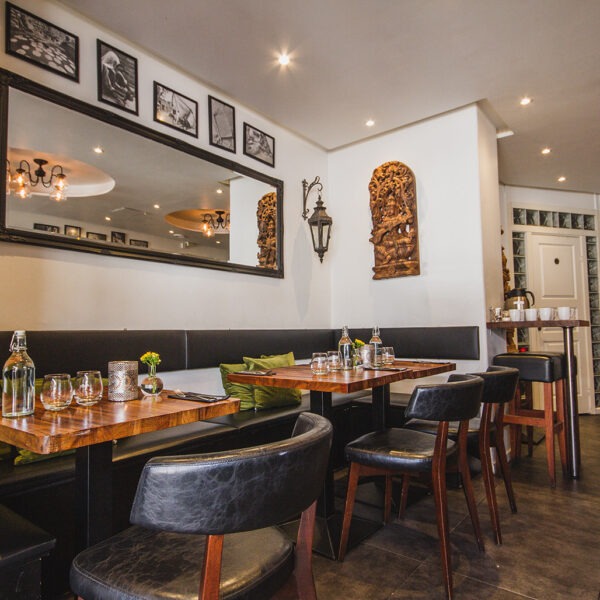 Kontrast Möllevångstorget
Möllevångstorget 6B
21 424 Malmö